Australia Emergency Services

AUSTRALIA
A requirement of all emergency services personnel is a commitment to advancement and life long learning, both prior to entrance testing and throughout the duration of your career.
Did you know that there is more to TRP than practice tests and learning materials! We have an extensive list of resources that our members and the public alike utilize on a daily basis. Stay up-to-date on the latest information, courses and offers – join your peers, share and learn, join our Community today!
Becoming a Test Ready Pro (TRP) member will provide you with access to an exclusive list of our Preferred Partners. TRP has developed long standing relationships with these partners and in most cases have negotiated discounts (usually a minimum of 15%) for our members.*
Join the TRP Community! Read success stories, learn from your Peers!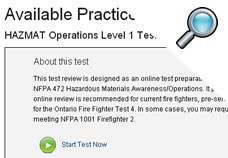 HAZMAT Operations Level 1 Test Review
Australian Police Testing