TEST READY PRO SHOWCASE POLICE RECRUIT CANDIDATE OF THE YEAR AWARD
Test Ready Pro Showcase Police Recruit Candidate of the Year Award presented to the students that best exemplify and demonstrate excellence in the following categories: Academic Achievement; Dedication to Career Pursuit; Volunteerism; Leadership Potential; Overall Outstanding Candidate. This award is available through the College Sponsorship Partner Program. Contact us to give your students the best competitive advantage!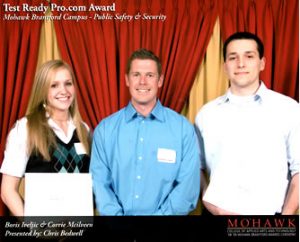 Selection Criteria Includes:
Academic achievement – Does not necessarily the highest marks, but rather, demonstrates a consistent effort showcasing the best of their ability.
Dedication to Career Pursuit – Demonstrates a commitment to excellence in school, attendance, assignments, physical performance and as a Test Ready Pro member
Volunteerism – Demonstrates a commitment to community and school programs
Leadership Potential – Portrays the key characteristics necessary to lead
Overall Outstanding Candidate – Demonstrates the characteristics that best describe the conduct, demeanor and image identified by the faculty as desirable in a candidate. Has respect for others and maintains a professional image in both appearance and decorum.