Firefighter Prep Course (OFAI FACT, NFST, CPS, OS)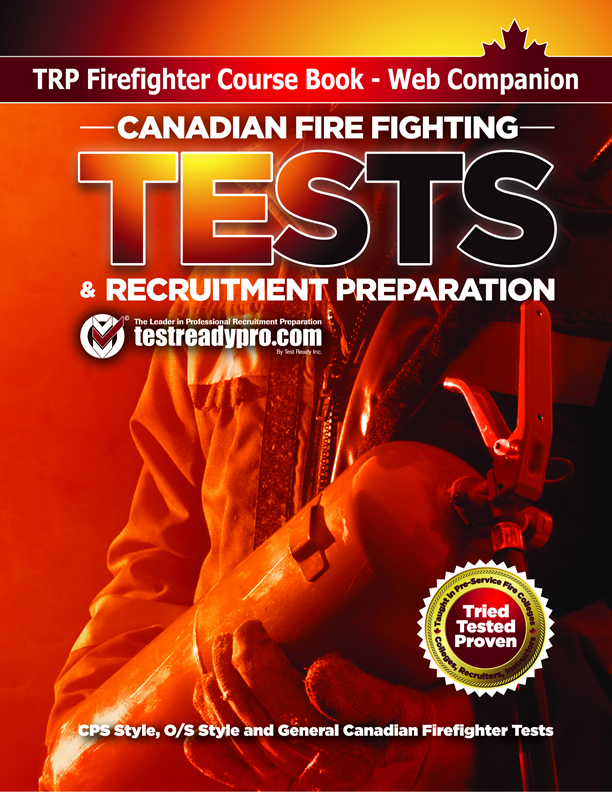 Firefighter Prep Course (OFAI FACTtm, NFST, CPS, OS)
Online Firefighter Practice Tests and Recruitment Preparation. All You Need, To Get Hired.
| | |
| --- | --- |
| • Unlimited Firefighter Tests | • FREE! TRPro™ Firefighter Study Guide |
| • CPS Style,OFAI FACT™ Gledhill/Shaw OS/ NFST Style | • Includes HAZMAT NFPA 472 Review |
| • PreService College Fire Endorsed! | • Lifetime Membership - Success Guarantee* |
Regularly $297.00
On Sale! $197.00
Pass The Firefighter Aptitude and Character Test™ (FACT™)

CPS style, O/S style and General Firefighter Tests. The First Time!
You can't afford to fail and waste everything you just put in to get your NFPA credentials...
There is a lot of competition, and very few jobs. There are over 7000 NFPA certified candidates in Ontario, thousands more from across Canada, with more graduating every month - all competing for YOUR job. Luckily for you, most candidates leave firefighter test preparation until the last minute and fail. You can start now. And pass.
Ensure your success, instantly access unlimited practice Canadian Firefighter compatible tests, closely resembling the actual tests plus comprehensive learning materials, including fitness and must-know interview strategies.
Use this course to help ensure you are ready for the Ontario Fire Administration Inc. hiring process utilizing the National Fire Select Test™!
TRP's comprehensive learning materials guide your learning in required subject areas such as math, math word problems, algebra, mechanical reasoning through written english and listening skills.
This proven course is endorsed by Professionals and Firefighters! Essential instruction you need for the entire recruitment process!
Essential for the following Candidates:
College (Pre-Service Firefighter) Entrance Tests - Make sure you get the score you need to be accepted!

Firefighter Aptitude and Character Test™ (FACT™) CPS, OS, General Fire Tests

Current Firefighter recruits - boost your scores and get to the interview stage!
Volunteer Firefighter applicants - complete prep for entrance testing!
Current Firefighters who need to re-write to apply at other departments!
Pre-Service Firefighter graduates; you're course didn't prepare you specifically for entrance testing, we will so you can beat your competition!
Essential for Second Career Candidates!
---
Everything You Need to Get Hired Including:
Learning Materials

Study Anywhere-Anytime with on-line and printable learning material
280 page TRP Recruitment Pro™ Course Book/Study Guide (printable in .PDF format)
Master Reading Comprehension, Vocabulary, Memory, Directional Orientation, Report Writing, Spelling, Mechanical and Mathematics
54 Math Learning Topics (Decimals, Fractions, Algebra, Word Problems etc...)essential for re-learning and developing your math skills
24 category specific practice tests
---
Extensive English Writing Skills & Firefighter Test Strategies

Includes essential Firefighter Testing Strategies
Includes essential Firefighter Judgment and response techniques
17 Professionally designed English writing exercises, printable
Learn and practice English written grammar, writing skills
Practice sentence completion, word definitions
Learn frequently misspelled words, common forms, verbs, synonyms, tense, nouns, plus more!
---
Unlimited Practice Firefighter Firefighter Aptitude and Character Test™ (FACT™)

CPS Style, O/S & General Firefighter Tests

Unlimited On-Line Practice Tests - Never take the same test twice!
Detailed, full scoring and correct answer display per test
Each test is timed, simulating the real tests
Includes Audio/Memory recall tests - just like the real test!
Tests compatible with the Firefighter Aptitude and Character Test™ (FACT™) CPS style, General and OS Style tests
---
Detailed Test Review, History & Results

Detailed test review: your answer, right/wrong answer display
In depth review shows results per test category (find your strengths & weaknesses)
Track your progress over time
Access detailed results at anytime!
---
Fitness Test Preparation

TRP 4-Week Fitness Foundation Program (Printable)
Professionally designed fitness training program by licensed fitness experts
Access discounted expert fitness instruction or membership with our CrossFit partners**Not available in all locations. Discounts may not be provided by all partners.
---
Interview & Recruitment Preparation

Learn Comprehensive Panel Interview Skills
Learn essential response structure, answer strategies
Includes sample interview questions
Available In person Interview Coaching by expert, Firefighter Instructor available. (Fees apply)
---
Quick and Easy to Use Self-Study

Study anywhere, anytime with this Step-by-Step course!

Print the convenient eBook or work on-line!
Take unlimited, on-line Canadian firefighter practice tests!
This is a complete Self-Study Course on our leading Learning Management System!
---
PLUS!

SAVE up to 15% on First Aid, Technical Rescue (see partners below!)
Complete Scoring & Answer Keys for all Unlimited Practice Tests!
Includes powerful, professional Cover Letter & Resume sample
Designed specifically in Canada by Professionals
Success Guarantee* (see conditions)
---
Your Building Blocks to Success Program Includes:
Learn the content, master the Firefighter test. (CPS/OS/OFAI FACT
™

Gledhill style)

Complete learning materials (math, written, verbal)
Includes Firefighter Course Book (over 200 pages PDF)
Study Anywhere, Anytime
Available in classroom or in-person training*
Self-study, Immediate access
Prepared by licensed Educators
Plus discussions, blogs, and forums!
Take unlimited firefighter practice tests.

Unlimited firefighter practice tests (CPS

™

style, Gledhill Shaw

™

OS style, OFAI NFST FACT

™

style tests and General Fire Tests)
Detailed results
Track your progress
Identify area's of weakness
Custom-defined groups
Entire organizations
Prepare for fitness, application & interviews.

Gain Essential Competencies
Learn how to prepare for the Interviews
Expert Designed Fitness Program
Application preparation strategies
Learn essential resume techniques
Available in classroom or in-person training*
Advance Get the EDGE over your competition.

Build competencies, build your resume..
Specialized courses such as Advanced First Aid..
Technical Rescue Training with TRP Partners
Preferred rates for TRP members
Exclusive to TRP members
Courses taught by current Professionals
TRP is your 1-stop shop to get you hired!
Lifetime Membership. College Endorsed.

Lifetime Access/Membership
College reviewed & Endorsed
Taught in Police Foundations
Taught in Pre-Service Firefighter
Taught in Career Preparation
Recommended by Officers, Instructors, Students
Have a Question? Need this Course in your College, University or Institution?
Book an onsite demonstration today! Please give us a call at 866.916.4911 or send us an email.
Firefighter Prep Course (OFAI FACT, NFST, CPS, OS)