If you are a Canadian Armed Forces (MET) Military Employment Transition Second Career Candidate Assistance Network, Ontario Second Career candidate, taking a College Entrance Test for PreService Firefighter, a student, or general public pursuing a career in Emergency Services – start now and start with the best resources in the business with TestReadyPro.com. You can access complete test and recruitment preparation for firefighters testing, the Ontario Fire Administration NFST or CPS OS, Ontario Police Test Prep ATS for PATI Test & COR test, RCMP RPAB, CBSA, Corrections (CBSA test), Special Constable (GATB test), Special Forces (CFAT test), Paramedic AEMCA, Ontario Security Guard, Private Investigator tests. You'll also receive tips on fitness (such as the PARE test), the application process, resume/interview preparation. Real people helping you for over 10 years!
PROVEN AND UTILIZED BY STUDENTS FROM YOUR COLLEGE OR UNIVERSITY.
TestReadyPro.com is utilized and recommended by students the following: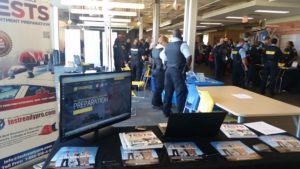 TEEX Fire & Emergency Services, TrainingDivision, Centennial College, Algonquin College, Itt Technical Institute, University Of Ontario, Pensacola Christian College, Southeastern University, Texas A&M, Ryerson University, Devry College, Sir Sandford Fleming College, Fanshawe College, Seneca College, West Virginia University, Dawson College, 'University Of Phoenix, Santa Ana College, Commercial Business College, St.Clair College, St. Lawrence College, Niagara College, Centennial College, Bemidji State University, Lambton College, Wilfrid Laurier University, Homeopathic College Of Canada, Durham College, University Of Nevada Las Vegas, Collège Montmorency, Laurentian, Sault College Of Applied Arts, George Brown College, Kwantlen University College, Mohawk College, Concordia University, McMaster University, College of The North Atlantic, University Of Toronto, Carleton University, Conestoga College, University Of Ontario Institute Of Technology, University Of Guelph, Trios College, Trent University, Northern College, Brock University, University Of Winnipeg…and the list keeps growing!

Join us and build your future now.