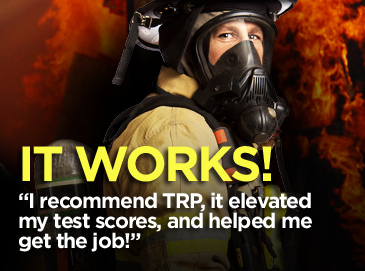 Regular Price: $219.00
Limited Time Offer - Save instantly, only valid until May 26, 2015 (Save over $100) BONUS! Included HAZMAT 472 Awareness/Ops Test Prep Course* $119.00
Firefighter Course

Online Firefighter Practice Tests and Recruitment Preparation. All You Need, To Get Hired.
| | |
| --- | --- |
| • Unlimited Firefighter Tests | • FREE! TRPro™ Firefighter Study Guide |
| • CPS Style, Gledhill/Shaw OS/ NFST Style | • Includes HAZMAT NFPA 472 Review |
| • PreService College Fire Endorsed! | • Lifetime Membership - Success Guarantee* |
Firefighter tests cps, os, ontario fire administration nfst - pass it!
You can't afford to fail and waste everything you just put in to get your NFPA credentials...
Another Hire - This CAN BE YOU! - May 15, 2014 - A reminder to persevere! Testimonial - Hi Chris, I purchased the TestReadyPro.com program in 2009 and was hired as a fire fighter with Richmond Hill Fire on March 3, 2014. I was getting 60 to 70% when I started and after working through you program my marks went drastically up. Lots of hard work and many years of rejection. I stayed with it and after 22 recruitment's and 6 years post pre-service I have finally got on. I feel super privileged and will never forget the grind or process of becoming a fire fighter. I have unfortunately had to give my volunteer ff position after 5 yrs as well. I just wanted to thank you so much for all your efforts and the help, advice and guidance you provide this service is priceless. Thanks again take care, C. Sweeney
There is alot of competition, very few jobs. There are over 7000 NFPA certified candidates in Ontario, thousands more from across Canada, with more graduating every month - all competing for YOUR job. Luckily for you, most candidates leave firefighter test preparation until the last minute and fail. You can start now. And pass.
Ensure your success, instantly access unlimited practice Canadian Firefighter compatible tests, closely resembling the actual tests plus comprehensive learning materials, including fitness and must-know interview strategies.
Use this course to help ensure you are ready for the Ontario Fire Administration Inc. hiring process utilizing the National Fire Select Test™!
TRP's comprehensive learning materials guide your learning in required subject areas such as math, math word problems, algebra, mechanical reasoning through written english and listening skills.
This proven course is endorsed by Professionals and Firefighters! Essential instruction you need for the entire recruitment process!
Essential for the following Candidates:
Everything You Need to Get Hired Including:
Build Your Resume - Take A Course with Our Official Partners!


Training Division.com
Training Division.com has combined tradition with technology to become the leader in online fire certification training.
Both TestReadyPro.com and Training Division.com students have utilized both services to prepare for entrance testing and recruitment preparation while completing NFPA Firefighter I and Firefighter II standards on-line with Training Division.com


Access-Rescue Canada, Inc.
We deliver N.F.P.A. 1006 and 1670 compliant ice rescue, swift water rescue and technical rope programs. Students may certify at the Awareness, Operations, and Technician level. We deliver instructor programs to National, Provincial and Municipal Public Service Rescue Agencies.
All of our lead instructors are professional rescue trainers with real-life rescue experience. We are active members of rescue units within Ontario and have mastered instructional and rescue techniques.
Students know Access-Rescue as the "organization that delivers comprehensive hands-on training". Students work with the tools of the trade, solving rescue situations under real-life conditions.


BecommingaFIREFIGHTER.com
Fulltime firefighter and author of the book The Complete Guide to Becoming a Firefighter Kory Pearn personally manages the website BecomminaFIREFIGHTER.com. His books and resources are an essential compliment to TRP Firefighter Membership. TRP highly recommended.


FireFighterInterviews.com
Based on the principles taught in our book Study Guide for the Firefighter Interview you will learn how to recognize the specific types of firefighter interview questions, formulate an answer that is unique to you and, maximize the mark you will receive for your answer. TRP highly recommends the resources available from FireFighterInterviews.com and should be considered an essential compliment to a TRP Firefighter Membership.


Advanced Rescue Techniques School of Canada
Has been serving the rescue community with modern, efficient, cost effective rescue training for the past 25 years. Founded in 1982 by director Paul Sevcik as a division of Equinox adventures, the Advanced Rescue School of Canada teaches NFPA 1670 and 1006 compliant for awareness, technicians, operations, and instructor levels in the disciplines of High Angle, Confined Space, Swift Water, and Ice Rescue.
Pass the CPS style, O/S, style & General Firefighter Tests.
Achieving the highest possible score on your actual Firefighter Test is critical, in fact that test may be the only thing that separates you from getting the job – or not. Results beyond 85% are almost always a minimum requirement – and the competition has never been greater!
Ensure your success, instantly access unlimited practice Canadian Firefighter compatible tests, closely resembling the actual firefighter (CPS Test, O/S Test, General Firefighter) tests plus comprehensive learning materials, including fitness and must-know interview strategies. TRP's comprehensive learning materials guide your learning in required subject areas such as math, math word problems, algebra, mechanical reasoning through written english and listening skills. This proven course is endorsed by Professionals and Firefighters! Essential instruction you need for the entire recruitment process!
Learn.
the content,
master the test.

Complete learning materials
Includes eBook or Print**
Study Anywhere, Anytime
Available in classroom or in-person training*
Self-study, Instant access
Prepared by licensed Educators
Plus discussions, blogs, and forums!

Practice.
take unlimited
practice tests.

Unlimited practice tests
Detailed results
Track your progress
Identify area's of weakness
Custom-defined groups
Entire organizations

Prepare.
for fitness,
application &
interviews.

Gain Essential Competencies
Learn how to prepare for the Interviews
Expert Designed Fitness Program
Application preparation strategies
Learn essential resume techniques
Available in classroom or in-person training*

Advance.
Get the EDGE
over your
competition.

Build competencies, build your resume..
Specialized courses such as Advanced First Aid..
Technical Rescue Training with TRP Partners
Preferred rates for TRP members
Exclusive to TRP members
Courses taught by current Professionals
TRP is your 1-stop shop to get you hired!

Lifetime
Membership.
College
Endorsed.

Lifetime Access/Membership
College reviewed & Endorsed
Taught in Police Foundations
Taught in Pre-Service Firefighter
Taught in Career Preparation
Recommended by Officers, Instructors, Students
Have a Question? Need this Course in your College, University or Institution?
Book an onsite demonstration today! Please give us a call at 866.916.4911 or send us an email.
Latest Success Stories and Testimonials
06. 17. 10
"YRP!!Got the call today, heading to OPC in Sept 2010 !! Just wanted to thank you Chris Bedwell (and the TRP Team) for having such a great website as TRP!I signed up last year in May 2009, had my PATI/WCT/PREP in Aug 09, passed everything FIRST TRY !! English being my second language, I studied a lot from the material you have and it really helped me. I had my BPAD in Sept, passed at FIRST try too! Only thing that was delayed was the vision, I had LASIK in Oct 09 and re-test again in Nov, passed. Applied to TPS and YRP end of 2009.I chose the second one for personal reason. Anyway I'm really happy for having chosen TRP and thanks Chris ,every time I emailed you, you have always helped me , you're the man!All the best to the other applicants,work hard you'll succeed!" " Stef-T
This is a blank page
03. 11. 14
"My name is Derek, I am a current member for your A-EMCA practice/study resource. I did go on to obtain my A-EMCA, so with that being said you guys did help me out!" Derek
21. 05. 11
"Thanks to your Testreadypro program, I'm a little closer to achieving my dream." Ebrahim
06. 02. 14
"Thanks to the assistance of Test Ready Pro I passed all the tests and obtained my Certificate of Results, and now I'm ready to apply to a Police Service! " " Brad
10. 10. 09
"Hi Chris, Just wanted to thank you for this product. Many people told me "TRP will get you the grade". Sure enough, it did! I received my PATI results in the mail and passed! My BPAD is scheduled next week and I will be using TRP to study for that as well. As you may recall, I failed the PATI first time around, putting my faith in another product. I fully endorse TRP 120%. Thank you," " John
14. 02. 11
"I started off my pursuit to become a police officer 8 years ago. After many, many failed attempts and being very discouraged I gave Test Ready Pro a try and noticed a signifigant improvement in my time management and confidence level. My scores were continuosly increasing and motivating me to push on. I passed all of my testing on February 14, 2011 and have an interview shedueled with The Ontario Provincial Police. I want to thank Test Ready Pro for helping me with my passion to become a police officer. Regards," Michael
04. 10. 10
"The practice tests and scenarios on TRP are excellent and I would recommend this site to everyone who is considering going for their OACP certificate. It's worth every penny!" " Boris
18. 08. 10
"Waiting is over, got the call, OPC in September!! Thanks for everything TRP and Tim:)" April
03. 10. 09
"I used Test Ready Pro to get prepared for the testing process for Law Enforcement. This program is an excellent way to be able to pass the WCT, PATI, PREP and BPAD. The program enables you to be able to do practice exams as much as you need in order to get the skills and confidence you require. The instructions support and hints on how to study and physically prepare are excellent. Test Ready Pro is a great short term investment for a long time career. " " OPP Constable, Wade B.
12. 18. 08
"I got the call this week. I have been hired to serve with the Hamilton Police Services... I could not have done this without Test Ready Pro! NEVER!." " Wendell
27. 10. 10
"I am thrilled to announce that I have passed my (GATB)special constable test after two long months of studying!" Frisco
03. 13. 14
"On March 6th I completed the PATI, WCT and PREP tests with Applicant Testing Services. This week I received a letter from ATS stating that I passed all three tests. When writing the PATI and WCT tests I felt totally prepared. Actually, I felt like I aced both written tests." Mike
11. 10. 09
"With help from your site, I have passed my WCT PATI and PREP test on my first try. I am 35 and a Mom so standing there with many younger guys, it felt great to be prepared and come out successful. It has been nice to have the ability to come to the TRP site and review tests as often as I like." " Jennifer
13. 12. 09
"Test Ready Pro is unbelievably amazing. I think it is one of the best comprehensive recruitment preparation programs available. TRP prepare's you for real life" Mandi
04. 05. 12
"I am extremely happy with the TRP site, the material was fantastic as I had been out of school for a number of years. I was having problems with the syllogisms and math but TRP prepared me in order to achieve my goal of obtaining my COR. Now l am enjoying a wonderful career with the OPP in an Eastern Region detachment for the last year in a half. Thanks again your material was excellent and I've referred the TRP website to my sister as well as numerous others whom have asked for my guidance. I can honestly say that your program works as I'm proof of that." Shawn, Current OPP Officer, May 4, 2012
02. 13. 10
"I am extremely happy with the TRP website, the training material and assistant given was fantastic. I was having problems with the ats tests so I signed up to the TRP website, after studying the material and following the training steps I have now received my Certificate of results, being out of school for so long my math skills definately needed work, Trp website gave me the necessary study material to accomplish my goals. I would highly recommend this website to anyone who is going to do the police testing." " Amanda
10. 02. 14
"My name is Shannon M. and I recently purchased Test Ready Pro, which did help find success in passing my PATI." " Shannon
12. 01. 09
"As recruitment Officer and Police Foundations Instructor I see many great students, but I may never get a chance to interview them because they can't pass the pre-interview testing" Police Recruitment Officer
22. 05. 11
"Hi Chris, I studied like mad, reviewing your material over and over. With your suggestions, I went over the different regulations and codes and am please to announce that I passed the Ontario provincial private investigator exam. Thank you for the guidance as your material was on target. Regards," JB
26. 08. 11
"I used TRP in class with Mohawk College in winter 2010 in Police Foundations. Lucky enough I was going through the hiring stages of Auxiliary with the OPP. Test Ready Pro helped me pass the PATI test required of applicants and I was soon enough hired as an Auxiliary Constable. Thank you for the guidance as your material was on target. Regards," Curtis
07. 10. 13
"I wanted to let you know that I passed both the PATI and WCT tests and I know that your new site with the upgrades helped me tremendously! Thank you! " Mike H.
07. 20. 10
"Passed the prep and pati on Sun July 11. I have alot to thank you for...I read your course book front to back two times....I spent some good hours working through your questions and stuck to it!" " David
03. 06. 10
"When writing the PATI and WCT tests I felt totally prepared. Actually, I felt like I aced both written tests." Don
24. 06. 11
"Greetings, my name is Adam. I purchased your Ontario police testing (ATS, PATI, WCT, BPAD, PREP) guide online about a year ago. I was successful at all stages and received my COR certificate. Now a year later I received favorable consideration in final review with the OPP and now patiently waiting for the phone call to be posted. Thanks again your guide was excellent and I will recommend it to anyone who is serious about becoming a police officer. Regards," Adam
11. 01. 10
"As both President of Law Enforcement Physical Abilities Testing (LEPAT) and a serving police officer in British Columbia with 20 years experience, I fully endorse the Test Ready Pro system to help you prepare for your law enforcement application" J. Lane, President LEPAT, Police Recruitment Officer, 20 years experience, British Columbia
08. 01. 09
"I received my certificate (OACP) on the first try. TRP works. BPAD video training undoubtedly gives you the confidence required for the real test. The WCT training is the best as you go from basic to the most complex scenarios... as this is what you'll see on the real test." Paul
10. 03. 13
"Hi Chris, Just wanted to thank you all at Testreadypro.com for the amazing tutelage, I passed my RCMP RAPT test with a score of 3.76/5 or 75%. Couldn't have done it without your great help. I will recommend all that need help with this exam. Regards," Doug
02. 13. 14
"I signed up to the TRP website, after studying the material and following the training steps I have now received my Certificate of results!" Mike
06. 04. 12
"Just wanted to let you know the text and on-line access you provided to me for preparation for ATS BPAD and associated testing was extremely helpful. It allowed me to make structured methodological responses during the BPAD simulator situations. I found the WCT review exceptionally helpful in aiding in keeping facts simple and to the point. The PATI Testing will be helpful to those yet to experience PATI testing. Overall, I believe there would be a higher success rate for graduates if texts of this nature were more readily available." Leslie
02. 13. 10
"I am extremely happy with the TRP website, the training material and assistant given was fantastic. I was having problems with the ats tests so I signed up to the TRP website, after studying the material and following the training steps I have now received my Certificate of results, being out of school for so long my math skills definately needed work, Trp website gave me the necessary study material to accomplish my goals. I would highly recommend this website to anyone who is going to do the police testing." " Amanda